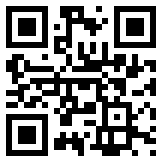 The future is already here. QR codes* are these weird little snippet graphics that have website urls, phone numbers, all sorts of information embedded in them, ready for you to scan with your smartphone and connect with your favorite vendor or website. We are even putting them on business cards and stationery! Don't want to miss a trick.
If you lived in Japan this image would be old hat. They've been using QR codes for quite a while. (They were created by Created by Toyota subsidiary Denso Wave in 1994 to track vehicles during the manufacturing process. Thank you Wikipedia for this tidbit.) Look around and you will suddenly begin to see these graphics on cereal boxes, store windows, invoices, you name it.
And does chapmandeering.com really need a QR code? Why not? Seems like the marketing edge we want to be dancing on. So here we go.
*A QR code (abbreviated from Quick Response code) is a type of matrix barcode (or two-dimensional code) first designed for the automotive industry. More recently, the system has become popular outside of the industry due to its fast readability and comparatively large storage capacity. The code consists of black modules arranged in a square pattern on a white background. The information encoded can be made up of any kind of data (e.g., binary, alphanumeric, or Kanji symbols – from Wikipedia.)
Would you like to have your own QR code? all you need is a website url…. it doesn't have to be yours… it could be… say, DISNEYWORLD!!! and you could put it on a T shirt, and if anyone bothered to scan your shirt with their little smart phone they would be instantly taken to the disneyworld website… Wowsa. Now ain't that something.
To get your own little QR code, go to this website, http://qrcode.kaywa.com/ fill in the blank spot with the url of your choice and voila!!!! 🙂 Ain't technology grand?