Separated by war. Surrounded by temptation. Would their love endure?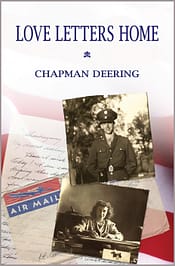 After Japan dropped its bombs on Pearl Harbor in December of 1942, Ruth LeBlanc's secure little world evaporated. The love of her life disappeared into battle and all the familiar comforts of home were slowly taken away. As the war spread like a cancer across the face of Europe, Africa and the Pacific, letters became the only uncertain bridge between her and the man she had promised to marry. With the war stretching on into an unknown future, would she have the courage to wait for him or give in to the temptation to begin a new life with an old flame?
Love Letters Home is a historical romance set in New England during the years of World War II. Using the actual letters of an Army Air Force soldier serving overseas, the novel reveals what the war years were really like for both a lonely soldier serving his country and the woman he left behind. (Click to purchase at Amazon.com)
---
Reader Reviews

"Love Letters Home" receives 5 out of 5 stars in Julie's world.
There were more than four hundred letters, and it took the speaker/Deering three years to read and transcribe them. Ultimatey "the box contained one side of a nearly fur year correspondence."
What Deering has created an amazing read. While she fabricated what appears to be her mother-to-be's side of the story, she used her father-to-be's letters to tell the story of their romance and courtship.
Readers get to be a fly on the wall as the couple fight for their relationship as much as they are fighting for their country. Ruth LeBlanc and Jim Doughtery have been dating only a few months when the Japanese bomb Pearl Harbor and he joins the Army Air Corps (forerunner to the Air Force).
The timeframe for the novel is 1942 to 1945. What I really like about this story is that how hard it was on the homefront, and the honesty of Jim's letters. Jim encourages Ruth to have a life, to go out and have fun. Ruth tries, but the stress of their apartness make it difficult. Beisdes, most of the men have joined the service and she does love Jim with her entire being.
I was glad that Deering touched on how the homefront had grown tired of the war after three years and began to feel less than supportive of those fighting overseas. I was also fascinated to witness their fighting via letters. At times, Jim really ticked me off with his, what we call today, male chauvenstic attitude.
I was terribly disappointed when this novel ended. I want to know how life turned out for the two. Maybe Deering will write another book about Ruth and Jim. ~ Julie F. Earhart, St. Louis Public Library Book Challenge

I just finished Love Letters Home… I couldn't put it down!
A lovely story about the complexities of "love" in a time of uncertainty. Great character development and historical references. Story line flows flawlessly and gives the reader an interesting view into the social and romantic "customs" of the times (which differ so much from today). Living today in a world of "immediate information" and communication, it was fascinating to read about a time when "snail mail" was the only communication option… the complexities of time delay, the challenges of interpreting the written word, and the devotion to another so far away. Chapman Deering nails it with this book! – KCK on February 10, 2018

A very nice historical gem I'm a sucker for historical fiction especially for the WW2 era. This one did not let me down at all. With the only exception of to who Ruth ended up choosing in my opinion! Lol!
Chapman Deering does a wonderful job with this story. Her facts and and character development are fantastic! The story is smooth as silk! I liked the fact that we were able to see not only the war aspect but how it affected civilian life in every way.
If you like historical fiction or historical fiction with some romance thrown in than you will definitely love ?? this book!! I highly highly recommend this book to anyone! I very much enjoyed reading this heartfelt WWII story of love and romance. – Jennifer on February 13, 2018

I very much enjoyed reading this heartfelt WWII story of love and romance. A story about a young recently enlisted soldier and the girl he leaves behind and how they develop an enduring bond during their separation. The author cleverly narrates the ups and downs of their romance through the three years of letters he sends home. The plot is not only thoroughly engaging, but it also accurately captures the life and times of families living during the 1940's war time. This talented writer successfully relates all the human emotions in the hearts and minds of the characters. She provides a sweet and charming narrative that held my interest until the end! – Jackie