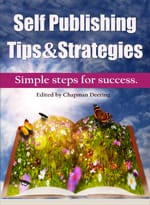 "Self Publishing Tips & Strategies"
It's short and sweet but has some valuable information for you. Be sure to subscribe to this website for future emails with links to articles and tips to help make your writing career a success.
Click here to download your copy: Tips & Strategies for Self Publishing
Join me on Twitter and Facebook!
All the best to you.